Uranium Energy to Buy Uranium Project in Canada from Rio Tinto
Rio Tinto will receive $80m in cash from Uranium Energy and $70m from the company's stock.
The post Uranium Energy to buy uranium project in Canada from…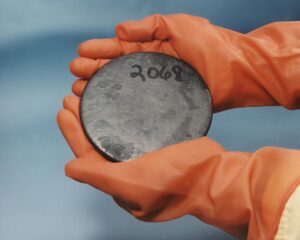 $UEC has agreed to acquire a 100% stake in the Roughrider #uranium development project in Saskatchewan, #Canada, from a subsidiary of Rio Tinto $RIO –

Located in the Athabasca Basin, the project is being bought for a total consideration of $150m.
Under the deal terms, Rio Tinto will receive $80m in cash, as well as 17,805,815 Uranium Energy common shares, which are valued at $70m in total.
Covering a 597ha area, the development-stage Roughrider conventional uranium project is located around 13km west of Orano's McClean Lake Mill, near UEC's existing Athabasca Basin properties.
UEC CEO Amir Adnani said: "With this accretive fully funded acquisition of the Roughrider Project, we're able to achieve multiple objectives.
"We thank Rio Tinto for entrusting UEC with the Roughrider Project and welcome them as our new shareholder."
UEC plans to complete an updated S-K 1300 technical report summary for the project based on more than 650 previously completed diamond drillholes.
To develop the technical report update for the project over the coming months, UEC is engaging with undisclosed consultants.
In addition, UEC plans to proceed with a production study for the Roughrider project, as well as optimise its integration with the firm's existing Canadian platform. 
Adnani added: "The acquisition builds on our strategic objective to create the leading Western supplier of secure and 100% unhedged uranium with a two-pronged platform: near-term, fully permitted and low-cost US ISR production, and a Canadian high-grade conventional pipeline."
The Roughrider Project has an estimated historic resource of 58 million pounds at an average grade of 4.73% U3O8.
UEC said the Roughrider project would be a fully owned cornerstone asset that will position the company with important mass of resources.
It will complement the UEX Corporation projects located in eastern Athabasca, which the company purchased recently.
The deal is subject to customary conditions and is expected to close later this month.
The post Uranium Energy to buy uranium project in Canada from Rio Tinto appeared first on Mining Technology.
S&P Global Mobility survey finds EV affordability tops charging and range concerns in slowing EV demand
Although battery-electric vehicles are getting closer to price parity with their internal combustion siblings, the affordability factor is the main reason…
Hertz Lithium multi-prong lithium exploration and extraction technology investment
Hertz Lithium Inc. [HZ-CSE, HZLIF-OTC, QE2-FSE] is a company that offers a unique diversification opportunity…
Have Japan's automakers become battery EV players? Or are they still playing catch up?
The answer, based on what we saw at the Japan Mobility Show, with highlights from the Toyota booth and an interview with Lexus: a bit of both
The post…