Prismo Metals Intersects High-Grade Mineralization at Palos Verdes – Including 11,520 g/t AgEq Over 0.5 Meter
Vancouver, British Columbia–(Newsfile Corp. – July 27, 2023) – Prismo Metals Inc. (CSE: PRIZ) (OTCQB: PMOMF) ("Prismo" or the "Company") is pleased to…
Vancouver, British Columbia–(Newsfile Corp. – July 27, 2023) – Prismo Metals Inc. (CSE: PRIZ) (OTCQB: PMOMF) ("Prismo" or the "Company") is pleased to report results from seven drill holes targeting the Palos Verdes vein on the property of the same name located in the Panuco district in Mexico.
Highlights
PV-23-25:
This hole intersected 11,520 g/t Ag equivalent over 0.5 meters (3,100 g/t Ag, 102 g/t Au and 0.26% Zn)

This intercept is part of a wider mineralized interval with 4,311 g/t Ag equivalent over 1.35 meters (1157 g/t Ag, 38 g/t Au and 0.1% Zn)

A second interval higher in the hole yielded 512 g/t Ag equivalent over 0.3 meter (384 g/t Ag, 1.36 g/t Au and 0.27% Zn).
Hole PV-23-24:
This hole intercepted 1,234 g/t g/t Ag equivalent over 0.7 meter (60 g/t Ag, 11.9 g/t Au and 3.9% Zn)

This interval is within a wider 2.6-meter interval with 384 g/t Ag equivalent (32 g/t Ag, 3.3 g/t Au and 1.57% Zn)

A second interval higher in the hole yielded 302 g/t Ag equivalent over 1.2. meters (95 g/t Ag, 1.84 g/t Au and 1.2% Zn).
Hole PV-23-20:
This hole intercepted 189 g/t g/t Ag equivalent over 0.9 meters (58 g/t Ag and 1.58 g/t Au) and is the first mineralized intercept in the northeastern portion of the concession.
The Company is conducting a 2,500-meter drill program at the property, which is contiguous to the Panuco silver-gold project of Vizsla Silver Corp. ("Vizsla") (TSXV: VZLA). The Palos Verdes vein originates on Vizsla's concession to the south-west of the Palos Verdes concession and has 750 meter of strike length on Prismo's ground (Fig. 1).
"We are excited to report these high-grade mineralization intercepts at Palos Verdes. What makes these results even more significant is that they come from drill sites that were not previously accessible for drilling," said Dr. Craig Gibson, President and CEO of the Company. "Previous drilling in the southwest portion of the vein had intersected high grade mineralization with the best intercept of 2,336 g/t Ag and 8.42 g.t Au over a true width estimated at 0.8 meters within a larger mineralized interval with 1,098 g/t Ag and 3.75 g/t Au over a true width of 2.3 meters (see Prismo's news release dated September 30, 2020)."
Dr. Gibson added: "Holes 24 and 25 were drilled underneath the body of mineralized vein defined by our previous drill campaigns and have further extended the zone of high-grade mineralization. Holes drilled near the northeastern limit of the concession and vein outcrop seem to confirm the interpretation that this area has been down-dropped along the northwesterly striking fault zone that crosses the center of the Palos Verdes concession, and provides information that will allow targeting by deeper drilling."
"Given the encouraging results announced today, Prismo will shortly be finalizing plans to at least double the number of meters of drilling at Palos Verdes," said Alain Lambert, Executive Chairman of Prismo. "Any decision we make will include the advice and recommendations of the Joint Technical Committee formed as part of the strategic investment completed by Vizsla in January. The Joint Technical Committee is comprised of our CEO, Vizsla's VP Exploration Jesus Velador and Dr. Peter Megaw."
"The results announced today by Prismo clearly reaffirm the great potential of the Panuco district. Of particular interest is that the multiple high-grade mineralized intercepts announced are from the northeast part of the district where little exploration has been conducted by Vizsla to date, paving the way to potential discoveries," said Micheal Konnert, President and CEO of Vizsla Silver. "Vizsla owns a right-of-first-refusal on the Palos Verdes project. We look forward to the recommendations of the Joint Technical Committee and seeing Prismo expand its exploration footprint in this promising part of the Panuco district."

 
Figure 1. Geologic and drill hole map of the Palos Verdes and adjacent concessions.
 
To view an enhanced version of this graphic, please visit:
https://images.newsfilecorp.com/files/7434/175046_37c701f2148e486a_02full.jpg
Table 1. Assays for drill holes in the current program.
Hole
From
(m)
To
(m)
Width
(m)
Est True width (m)
Au
(g/t)
Ag (g/t)
Cu
(%)
Pb
(%)
Zn
(%)
Ag eq (g/t)
New from this release
PV-19
Anomalous Ag
PV-20
2.99
3.90
0.91
0.90
1.58
58
–
0.01
0.01
189
36.80
37.00
0.20
0.20
0.21
53
–
–
0.01
71
PV-21
Anomalous Au & Ag
PV-22
No significant values
Pv-23
No significant values
PV-24
120.05
123.90
2.85
2.00
0.87
43
0.07
0.04
1.46
178
Incl.
121.40
122.60
1.20
0.84
1.84
95
0.05
0.05
1.26
302
150.22
152.85
2.63
1.83
3.30
32
0.14
0.40
1.57
384
Incl.
150.22
150.92
0.70
0.49
11.9
60
0.20
0.75
3.93
1,234
PV-25
78.70
79.00
0.30
–
1.36
384
0.11
0.15
0.27
512
134.10
135.45
1.35
–
38.2
1,157
0.08
0.06
0.10
4,311
Incl.
134.60
135.10
0.50
–
102
3,100
0.20
0.17
0.26
11,520
 
Silver equivalent values are calculated using the following metals prices: Au, US$1,750/oz, Ag, $21.24/oz, Pb, $0.97/lb and Zn, $1.34/lb. Cu was not used in the calculation, and metallurgical recoveries were not considered as there is no data available for the Palos Verdes vein. True width estimated from hole inclination and estimated vein dip, where known.
Table 2. Drill hole data for holes from the current program.
| | | | | | | | |
| --- | --- | --- | --- | --- | --- | --- | --- |
|  Hole | Target | Easting | Northing | Elev | Azim | Incl | Depth (m) |
| PV-23-19 | NE block | 414,023 | 2,593,310 | 1,313 | 326 | -44 | 93.00 |
| PV-23-20 | NE block | 414,049 | 2,593,296 | 1,296 | 324 | -59 | 201.00 |
| PV-23-21 | NE block | 414,004 | 2,593,260 | 1,294 | 330 | -45 | 160.00 |
| PV-23-22 | NE block | 414,008 | 2,593,262 | 1,294 | 330 | -60 | 129.00 |
| PV-23-23 | NE block | 413,963 | 2,593,219 | 1,261 | 300 | -45 | 144.00 |
| PV-23-24 | PV vein | 413,806 | 2,593,118 | 1,226 | 315 | -70 | 201.00 |
| PV-23-25 | PV vein | 413806 | 2593083 | 1236 | 320 | -68 | 258.00 |
 
Coordinates in UTM WGS84 using handheld Garmin GPS.
The Company started the current drill program at the northeastern portion of the surface exposure of the Palos Verdes vein where it is believed that the mineralization has been offset downward. The first holes also target hangingwall splits off of the main vein. In general, precious metal values are low but anomalous in this area, probably due to the high structural level of the drill intercepts. However, hole PV-23-20 intersected 189 g/t over 0.91 meters in one of the hangingwall splits. This drilling provides important information on the vein orientations that will aid drilling at a deeper level where metals values are expected to be higher.
The veining with the high-grade intercept in hole PV-25 was cut at a shallower depth than programmed, and the vein may have been affected by the northwest trending fault or may be part of a separate shallowly dipping vein. Further drilling is planned to offset this intercept and determine the orientation of the vein. Several additional holes are planned to explore the gap in drilling along the southwester portion of the Palos Verdes vein between 13 and 15.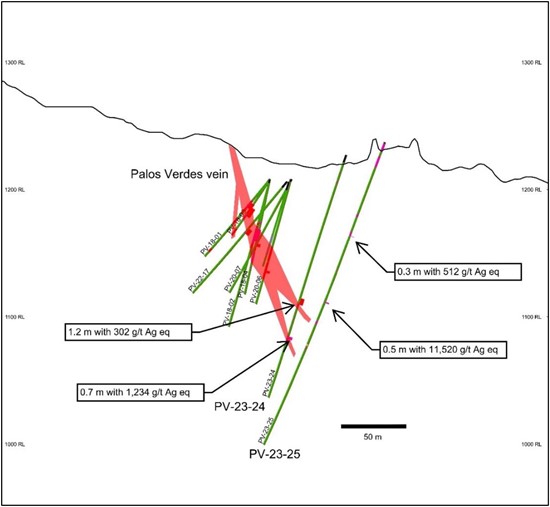 Figure 2. Cross section showing interpreted Palos Verdes vein and drill holes
mentioned in this news release.
 
To view an enhanced version of this graphic, please visit:
https://images.newsfilecorp.com/files/7434/175046_37c701f2148e486a_03full.jpg
To view an enhanced version of this graphic, please visit:
https://images.newsfilecorp.com/files/7434/175046_37c701f2148e486a_004full.jpg
Figure 3. Longitudinal vein projection showing Ag equivalent intervals in drill holes
and interpreted mineralized shoot.
The Company has granted 815,000 incentive stock options (the "Options"), 525,000 stock appreciation rights (the "SARs"), and 525,000 restricted share units (the "RSUs") to certain directors, officers, and consultants of the Company subject to certain vesting requirements. Each Option is exercisable upon vesting into one common share of the Company (a "Common Share") at a price equal to the greater of (i) $0.285 and (ii) the closing market price of the Company's shares on the CSE on July 28, 2023 (the "Grant Pricing"), for a period of five years from July 27, 2023. Upon vesting, each SAR entitles the holder to receive Common Shares in an amount equal to the difference between the Grant Pricing and the closing market price of the Common Shares on the settlement date, for a period of five years from July 27, 2023. Each vested RSU entitles the holder to receive one Common Share. All grants of Options, SARs, and RSUs are subject to the Company's long-term performance incentive plan (the "Incentive Plan"), which was approved by shareholders at the Company's annual general and special meeting of shareholders held on September 29, 2022 (the "Meeting"). A copy of the Incentive Plan is included in the Company's management information circular in respect of the Meeting dated August 31, 2022 available via the Company's profile on SEDAR at www.sedar.com.
QA/QC
Samples taken by Prismo are analyzed by multielement ICP-AES and MS methods internationally recognized analytical service providers. Certified Reference Materials including standard pulps and coarse blank material are inserted in the sample stream at regular intervals.
Dr. Craig Gibson, PhD., CPG., a Qualified Person as defined by NI-43-01 regulations and President, CEO and a director of the Company, has reviewed and approved the technical disclosures in this news release.
About Palos Verdes
The Palos Verdes project is located in the historic Pánuco-Copala silver-gold district in southern Sinaloa, Mexico, approximately 65 kilometers NE of Mazatlán, Sinaloa, in the Municipality of Concordia. The Palos Verdes concession (claim) covers 700 meters of strike length of the Palos Verdes vein, a member of the north-easterly trending vein family located in the eastern part of the district outside of the area of modern exploration. Shallow drilling (<100m) conducted in 2018 on the Palos Verdes Vein was targeted 30 to 50 meters beneath largely barren vein outcrops and cut a well mineralized multistage vein two to seven metres wide with narrow intervals of high-grade precious metal values and subordinate base metals (see table of intercepts at www.prismometals.com). This mineralization is open in all directions and the currently planned drilling program is designed to follow it along strike and to depth.
About Prismo
Prismo (CSE: PRIZ) is mining exploration company focused on two precious metal projects in Mexico (Palos Verdes and Los Pavitos) and a copper project in Arizona (Hot Breccia).
Please follow @PrismoMetals on Twitter, Facebook, LinkedIn, Instagram, and YouTube.
Prismo Metals Inc.
1100 – 1111 Melville St., Vancouver, British Columbia V6E 3V6
Contact:
Craig Gibson, President & Chief Executive Officer [email protected]
Jason Frame, Manager of Communications [email protected]
Neither the Canadian Securities Exchange accepts responsibility for the adequacy or accuracy of this release.
Cautionary Note Regarding Forward-Looking Statements
This press release contains forward-looking statements and forward-looking information (collectively, "forward-looking statements") within the meaning of applicable Canadian securities legislation. All statements other than statements of historical fact, including without limitation, statements regarding the anticipated content, commencement and exploration program results, the ability to complete future financings, required permitting, exploration programs and drilling, and the anticipated business plans and timing of future activities of the Company, are forward-looking statements. Forward-looking statements are typically identified by words such as: believe, expect, anticipate, intend, estimate, postulate and similar expressions, or are those, which, by their nature, refer to future events. Although the Company believes that such statements are reasonable, it can give no assurance that such expectations will prove to be correct.
The Company cautions investors that any forward-looking statements by the Company are not guarantees of future results or performance, and that actual results may differ materially from those in forward looking statements as a result of various factors, including, but not limited to, the state of the financial markets for the Company's equity securities, the state of the commodity markets generally, variations in the nature, the analytical results from surface trenching and sampling program, including diamond drilling programs, the results of IP surveying, the results of soil and till sampling program. the quality and quantity of any mineral deposits that may be located, variations in the market price of any mineral products the Company may produce or plan to produce, the inability of the Company to obtain any necessary permits, consents or authorizations required, including CSE acceptance, for its planned activities, the inability of the Company to produce minerals from its properties successfully or profitably, to continue its projected growth, to raise the necessary capital or to be fully able to implement its business strategies, the potential impact of COVID-19 (coronavirus) on the Company's exploration program and on the Company's general business, operations and financial condition, and other risks and uncertainties. All of the Company's Canadian public disclosure filings may be accessed via www.sedar.com and readers are urged to review these materials, including the technical reports filed with respect to the Company's mineral properties.
To view the source version of this press release, please visit https://www.newsfilecorp.com/release/175046
drilling
drill program
intersects
intercepts
drill hole
tsxv-vzla
vizsla-silver-corp
vizsla silver corp
cse-priz
prismo-metals-inc
prismo metals inc
investment
stock options
press-release
Capella Announces Definitive Agreement for the Sale of is Central Norway Copper-Cobalt Projects to NickelX and Financing Update
Capella Announces Definitive Agreement for the Sale of is Central Norway Copper-Cobalt Projects to NickelX and Financing Update
Canada NewsWire
VANCOUVER, BC, Oct. 17, 2023
VANCOUVER, BC, Oct. 17, 2023 /CNW/ – Capella Minerals Ltd (TSXV: CMIL) (OTC…
Goldgroup Announces Exercise of Cerro Prieto Purchase Option
Vancouver, British Columbia–(Newsfile Corp. – October 17, 2023) – Goldgroup Mining Inc. (TSX: GGA) (OTC PINK: GGAZF) (BMV SIX: GGAN.MX) ("Goldgroup" or…
Canada Silver Cobalt Works Confirms Pegmatites up to 20 meters wide and 70 meters long at Sangster West
Pegmatite Confirmations and Advanced Geochemical Insights Propel Exploration Success
Coquitlam, BC – TheNewswire – October 17, 2023 – Canada Silver…