Tesla Shares Fall 5% On HSBC $146 Target, Continued Cybertruck Skepticism
Tesla Shares Fall 5% On HSBC $146 Target, Continued Cybertruck Skepticism
Tesla shares sold off by more than 5% on Thursday after HSBC came…
Tesla Shares Fall 5% On HSBC $146 Target, Continued Cybertruck Skepticism
Tesla shares sold off by more than 5% on Thursday after HSBC came out and added yet another bearish sell side voice to the discussion about Elon Musk's EV automobile empire. HSBC's Michael Tyndall began coverage of Tesla shares on Thursday, advising a sell and setting a target of $146, suggesting a potential 33% decline from current prices.
Following this, Tesla's shares had fallen by almost 5.5% at Thursday's close, adding to a now 18.9% fall over the last month, according to Yahoo Finance.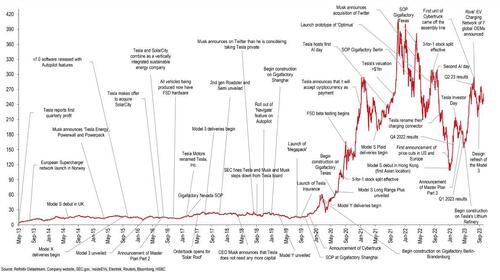 "We see considerable potential in Tesla's prospects and ideas, but we think the timeline is likely to be longer than the market and valuation is reflecting. Hence the Reduce rating," the note said. 
"Timing of delivery is our primary concern: we think questioning Tesla's credibility is  problematic. Its ambitions may be grand (20m units by 2030), but it has a track record of  generally doing what it promises. Equally, as outsiders, we struggle to challenge the feasibility  of the group's ideas. So, our caution stems from the uncertainty around the timing and  commercialisation of its varied ideas. We see considerable potential in Tesla's prospects and  ideas, but we think the timeline is likely to be longer than the market and valuation is reflecting.  Hence the Reduce rating," the note continues. 
It continued, questioning the future prospects of many of the "growth" stories Tesla's valuation depends on: "Our DCF [discounted cash flow] valuation is generous as we assume businesses such as FSD [full-self driving], Dojo and Optimus all become successful by the end of the decade, contributing around 40% of our DCF value. We think, however, that the expected cost of capital for these businesses should be well above the group average given the regulatory and technological challenges they face."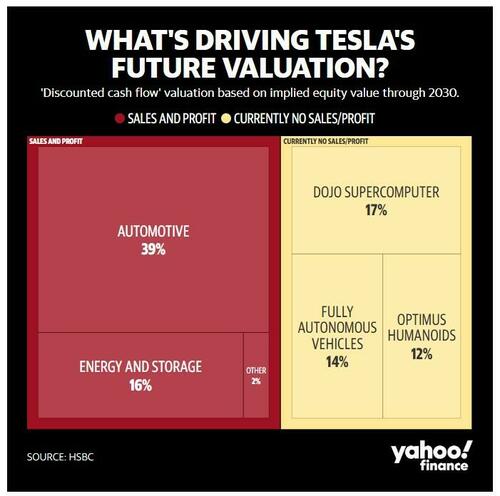 Yahoo Finance wrote that HSBC recognizes Tesla's unique position in the electric vehicle (EV) market, acknowledging its cost leadership and strong growth prospects.
And although Tyndall considers Tesla's target of 20 million units by 2030 ambitious, he notes that doubting the company's commitments is challenging, given its track record of fulfilling its promises, despite some skepticism regarding the feasibility of such figures at present.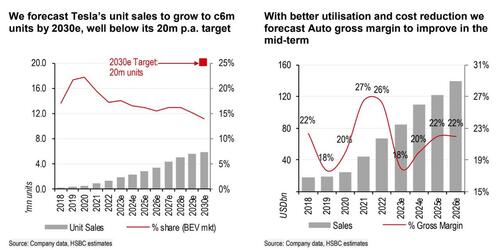 Calling CEO Elon Musk a "risk", Tyndall continued: "Musk's global fame has afforded the group a customer awareness that far outweighs the money it has spent on marketing and advertising, which is therefore a tangible benefit. Leaving aside the current legal issues Elon Musk faces, we think his prominence presents a considerable 'singleman' risk at the group."
The autonomous software sector, including Tesla, faces challenges, with investigations into Tesla's Full Self-Driving (FSD) and Autopilot software by NHTSA and the Department of Justice, Tyndall noted. Additionally, GM's Cruise service has now been halted nationwide, his note pointed out.
Despite the pessimism, Tyndall does admit that Tesla is an innovator and deserves a premium:
It is more than just an auto company; Tesla has positioned itself as an innovator. Cars  may well be the main driver of revenue and profits currently, but if the group is to be taken at its  word, the future for Tesla is about robots, autonomous vehicles, energy storage and super computers. Many of these ideas are in concept stage at present, which makes modelling them  and valuing them problematic. To gain a better understanding of the prospects for each, we  have relied on HSBC's domain experts in each field. This has helped round out our opinion and  valuation on the stock, but it seems clear, to us, there is a fair degree of hope in the current  share price.

Ironically, the better Tesla is as an auto company, the more it deserves an "auto like" valuation, so arguably the ideas need to become reality to support the current share price. Tesla auto faces fewer challenges than the incumbents and as such, deserves a  premium: we view conventional carmakers as ex-growth businesses; they are selling to  (largely) saturated markets and their ability to price higher content has historically been limited.  

For the incumbents, the switch to electric is simply another price-cost challenge – how long will  EV premiums prevail? Can they cut costs quickly enough to maintain margins? These  challenges don't exist for Tesla. EVs, by virtue of rising penetration, are a growth market and  are likely to be for decades. Tesla is already the cost leader and given its stated ambitions (and  scale), is likely to remain so.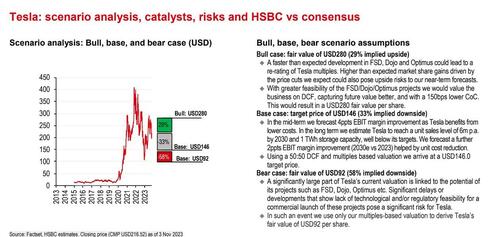 Adding to the misery for Tesla this week was InsideEVs writeup on the company's forthcoming Cybertruck. The article was called: "I Saw The Tesla Cybertruck Up Close. It Still Looks Horrible" and it sports a subtitle that says "A close look reveals a lot of issues."
"Basking in the SoCal sun, this Cybertruck looked frankly horrible," the article says. "I've been around hundreds of prototype cars in my career, ranging from early test mules to near-production prototypes, and I've never seen an automaker proudly present something of this poor quality, especially not this late in development."
Daniel Golson from InsideEVs added: "It is absolutely baffling to me that Tesla's lead designer would parade around a vehicle in this condition just weeks before deliveries of production cars are allegedly commencing and even more baffling that he'd park it at such a public enthusiast event."
The article concluded:
"Yes, this is still just a prototype at the end of the day. But at this stage of development, this close to customer deliveries starting, I couldn't help but feel something akin to second-hand embarrassment when looking at it. If Tesla feels comfortable showing this Cybertruck off, I don't think it bodes well for early customers."
Recall, Tesla shares were trounced after last quarter's earnings due to comments Musk made about the difficulties the company was having (and would be having) with producing the Cybertruck. Elon Musk said at the time:
"It's an amazing product but I do want to emphasize that there will be enormous challenges in reaching volume production with the Cybertruck and then in making the Cybertruck cash flow positive," Musk said during Tesla's earnings call on Wednesday.

"While I think this is potentially our best product ever — I think it is our best product ever — it is going to require immense work to reach high-volume production and be cash flow positive at a price that people can afford."
However, Musk claims demand for the Cybertruck is "off the charts" with more than 1 million potential buyers putting down $100 to reserve one.
Tyler Durden Thu, 11/09/2023 – 18:40 energy storage electric vehicle
S&P Global Mobility survey finds EV affordability tops charging and range concerns in slowing EV demand
Although battery-electric vehicles are getting closer to price parity with their internal combustion siblings, the affordability factor is the main reason…
Hertz Lithium multi-prong lithium exploration and extraction technology investment
Hertz Lithium Inc. [HZ-CSE, HZLIF-OTC, QE2-FSE] is a company that offers a unique diversification opportunity…
Have Japan's automakers become battery EV players? Or are they still playing catch up?
The answer, based on what we saw at the Japan Mobility Show, with highlights from the Toyota booth and an interview with Lexus: a bit of both
The post…