Shell coalition to develop fast-charging electric trucks
Nine companies plan to start production of modular, continuous-use battery in 2025.
The post Shell coalition to develop fast-charging electric trucks appeared…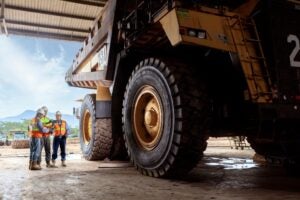 A coalition of nine companies, led by oil and gas company Shell, will aim to produce fast-charging electric mining vehicles by 2025.
At a press conference, representatives of the nine companies presented their plans for a modular, cross-compatible charging system. Shell vice-president of sectoral decarbonisation and innovation Grischa Sauerberg said the modularity of the system would allow it to be used quarrying and aggregates as well as deep mines.
The coalition consists of nine companies, including Shell. Alliance Automation, Spirae, and Worley will handle power distribution, allowing for several charging points across a site. Carnegie Robotics, Heliox, and Stäubli will develop the fast-charging systems to allow rapid energy transfer to vehicles. Aboard the vehicles, batteries will be developed by Skeleton Technologies and Microvast.
This system would allow for full charging of a 400kWh battery in 90 seconds, using a 24MW power connection. This size of battery would add 12 tonnes to the weight of a vehicle, although the companies say that modularity will allow for different capacities.
"The super-battery charges electric mine vehicles 100 times faster"
Estonia's Skeleton Technologies will build the vehicle batteries. While the company has previously worked with graphene, vice-president of automobile business development Sebastian Pullman said that the new batteries will also use aluminium foil with water as an electrolyte. This would also make the batteries recyclable.
He said: "Today's lithium-ion batteries cannot handle fast-charging, which means you need a much larger system than you would normally install. You also run into issues of safety, and lifespan, and there are sustainability issues around some the materials. Most common lithium-ion batteries use materials like cobalt and nickel, which are not available, for example, in Europe."
As such, the battery will not use cobalt, lithium, copper or graphite. This would prevent the battery from presenting an explosion risk if pierced, crushed, or overheated, as tested by third-parties. However, no specifics of this testing have yet been provided.
He did also concede that the new design would cost more per kWh of energy storage that conventional systems. At the same time, the "super battery" would offer more cost-effective charging throughput than other systems.
However, in mines with discontinuous power supplies or where high-voltage lines cannot reach loading or unloading stations, fast charging may require stationary power buffers.
The batteries will be rated for 50,000 discharge cycles, each lasting "20 to 30 minutes". Engineers will begin testing a prototype system under laboratory conditions in Hamburg from next year. In 2024, the coalition will begin its first field trials at an as-yet-undecided location. The units would first become commercially available from 2025.
More uptime than diesel, sooner than hydrogen?
Sauerberg was keen to show the project as a response to a Deloitte survey, which highlighted cost of ownership as a main barrier preventing mining companies from converting their fleets to electric.
As such, he emphasised that fast charging would allow trucks to charge during routine operations such as loading and unloading. "This would allow electric mine vehicles to have more use-time than a regular diesel truck, with no need for scheduled refuelling", he said.
Sauerberg also toyed with the idea of developing this system for use in construction, rail transport, and short-distance marine vessels. Within mining, Pullman mentioned that the batteries could allow for energy recovery in mineshaft systems.
Asked what Shell brings to the coalition, Sauerberg said the company's energy division would manage power supply and management. The company's chemicals division will also handle coolant systems.
He also compared his system to that of biofuels and hydrogen, saying each will have "a role to play" in a "mosaic of solutions" in future. In the present, he said that miners had found both to be too expensive. "Green hydrogen is not scalable at this stage; the supply chains are not ready yet. That is something that we believe will only really change in the mid-2030s."
The post Shell coalition to develop fast-charging electric trucks appeared first on Mining Technology.
All eyes on "huge" lithium prize for QX Resources as drilling starts up at Liberty Lithium
Drilling is under way at QX Resources' 102km2 Liberty Lithium project in California, targeting a high-value, extensive surface brine anomaly … Read…
Gold's stage is set: Will ASX juniors eat the TSXv's lunch in gold too?
When gold is worth around A$97 per gram, there is a lot of money to be made finding and producing … Read More
The post PETER STRACHAN: Gold's stage…
Barrick Gold Buys 12.3% Stake in Hercules Silver for $23.4 million
Hercules Silver (TSXV: BIG) has done what many junior mining names only dream of. The company has secured a major
The post Hercules Silver Sees Barrick…