Rio Tinto $RIO and #Canadian Government to #invest in REE Mine in #Quebec
The investments will increase the facility's annual scandium oxide production from 3t to 12t.
The post Rio Tinto and Canadian government to invest in…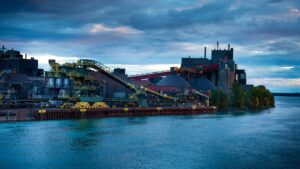 Anglo-Australian mining company Rio Tinto and the Canadian government have agreed to invest up to C$737m ($533.6m) in the Rio Tinto Fer et Titane (RTFT) operations in Sorel-Tracy, Québec.
The investment aims to reduce carbon dioxide emissions and expand research and development at the site.
Over an eight-year period, the government of Canada will invest up to C$222m in the RTFT facility to increase its production of critical minerals, including lithium, titanium and scandium.
The investment will also help increase Rio Tinto's production capacity, add essential mineral processing capabilities and recover critical minerals from waste streams.
It is expected to create 150 jobs at the mineral processing plant and will be made through the government's Strategic Innovation Fund.
Rio Tinto said in a statement: "The partnership will support technological innovations that represent a first step towards reducing greenhouse gas emissions from RTFT's titanium dioxide, steel and metal powders business by up to 70%.
"It will also progress initiatives to diversify RTFT's product portfolio, reinforcing Rio Tinto's leadership as a North American supplier of critical minerals for key growth sectors such as electric vehicles, 3D printing and aerospace."
The investments are expected to quadruple the facility's annual scandium oxide production from 3t to 12t.
New techniques will also be developed for smelting titanium dioxide, steel and metal powders to help lower the plant's carbon emissions by up to 70%.
Rio Tinto CEO Jakob Stausholm said: "Rio Tinto is committed to being part of a net-zero future, from decarbonising our operations to finding new ways to produce the materials needed for the transition.
"We are excited to collaborate with the Government of Canada to position RTFT for the future and strengthen the critical minerals and metals value chains in Canada and the United States."
The post Rio Tinto and Canadian government to invest in mine in Quebec appeared first on Mining Technology.
S&P Global Mobility survey finds EV affordability tops charging and range concerns in slowing EV demand
Although battery-electric vehicles are getting closer to price parity with their internal combustion siblings, the affordability factor is the main reason…
Hertz Lithium multi-prong lithium exploration and extraction technology investment
Hertz Lithium Inc. [HZ-CSE, HZLIF-OTC, QE2-FSE] is a company that offers a unique diversification opportunity…
Have Japan's automakers become battery EV players? Or are they still playing catch up?
The answer, based on what we saw at the Japan Mobility Show, with highlights from the Toyota booth and an interview with Lexus: a bit of both
The post…