New lithium exploration in Quebec
In a recent press release, Mont Royal noted that with new groundwork intelligence, the exploration program is set to begin with 8 target areas that show…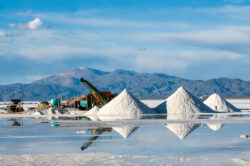 In a recent press release, Mont Royal noted that with new groundwork intelligence, the exploration program is set to begin with 8 target areas that show significant promise for lithium exploration.
A comprehensive analysis of the Wapatik property has identified approximately 30 distinct targets. These targets are believed to correspond to outcropping pegmatites. Notably, several of these outcrops are anomalous in lithium, caesium and tantalum, as well as other associated pathfinder elements, including rubidium, gallium and tin.
---
Don't miss out the latest news, subscribe to LeapRate's newsletter
---
The exploration program, led by a dedicated 5-person fieldwork team from Azimut, is anticipated to span roughly 14 days. The team will utilise advanced tools such as a portable Laser Induced Breakdown Spectroscopy (LIB) and an XRF analyser in the field to verify the presence of key elements of interest.
It is worth noting that the Wapatik property is strategically located approximately 20 kilometres north of Allkem Limited's renowned James Bay lithium deposit, which boasts a mineral resource of 110.2 Mt at 1.30% Li2O, as published in their August 2023 reports.
The post New lithium exploration in Quebec appeared first on LeapRate.
S&P Global Mobility survey finds EV affordability tops charging and range concerns in slowing EV demand
Although battery-electric vehicles are getting closer to price parity with their internal combustion siblings, the affordability factor is the main reason…
Hertz Lithium multi-prong lithium exploration and extraction technology investment
Hertz Lithium Inc. [HZ-CSE, HZLIF-OTC, QE2-FSE] is a company that offers a unique diversification opportunity…
Have Japan's automakers become battery EV players? Or are they still playing catch up?
The answer, based on what we saw at the Japan Mobility Show, with highlights from the Toyota booth and an interview with Lexus: a bit of both
The post…