LME Blocks Copper and Zinc Deliveries from UMMC and Chelyabinsk
UMMC owns a 97.78% stake in Chelyabins Zinc, which is a key zinc and zinc-based alloy manufacturer in Russia.
The post LME blocks copper and zinc deliveries…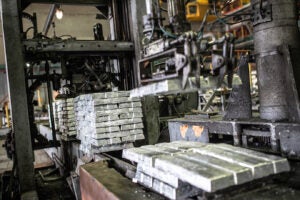 The London Metal Exchange (LME) has blocked new copper and zinc deliveries from Russian metallurgical company Ural Mining & Metallurgical (UMMC) and one of its subsidiaries.
Deliveries from UMMC and Joint Stock Company Chelyabinsk Zinc Plant (Chelyabinsk) have been restricted due to UK sanctions.
The UK imposed sanctions last month on UMMC president and founder Iskander Makhmudov along with three other oligarchs, as reported by Reuters.
The LME said metals could be delivered from UMMC and its subsidiary to its warehouses only if it can be proven the owner has not breached the sanctions.
These include demonstrating that the material was sold before the UK's sanctions came into force on 26 September, as well as that neither company has any economic interest in the metal.
In a press statement, LME said: "In order for a metal owner to place onto warrant any metal produced by an Affected Brand, the metal owner must provide evidence to the LME that, as of 26 September, UMMC or Chelyabinsk does not own or have any legal or other economic interests in relation to the metal."
UMMC currently owns a 97.78% stake in Chelyabins Zinc, which is said to be Russia's key zinc and zinc-based alloy manufacturer.
The Chelyabins Zinc plant produces alloys based on special high-grade zinc, including hot-dip galvanising alloys.
UMMC is an LME-listed producer of the copper brands UMMC and UMMC II, while the LME-listed Chelyabinsk produces the CZP SHG zinc brand.
The LME said the restrictions are due to continue until further notice.
In March this year, UMMC announced that Makhmudov had left its board and was no longer a controlling beneficiary, but did not disclose further details.
Last month, Bloomberg News reported that Russia's United Co Rusal International was looking to sell aluminium directly to LME warehouses in Asia.
The post LME blocks copper and zinc deliveries from UMMC and Chelyabinsk appeared first on Mining Technology.
Drilling resumes at Renforth Resources' Surimeau battery metals project in Quebec – Richard Mills
2023.11.08
The latest edition of the IEA's Critical Minerals Market Review reveals that supply sources of key EV metals like nickel and cobalt remain…
Reyna Silver Drill Results: "Medicine Springs continues to display its large, high-grade deposit potential"
Reyna Silver Corp. [TSXV-RSLV; OTCQX-RSNVF; FRA-4ZC] reported high-grade intercepts in 3 out of 4 holes in…
Kodiak Copper drills 0.45% CuEq over 116 metres at MPD, British Columbia
Kodiak Copper Corp. [TSXV-KDK; OTCQB-KDKCF; FSE-5DD1] reported results from its fully financed drill program at…