First Phosphate: A Quebec Explorer Focused On The LFP Battery Opportunity
First Phosphate Corp. Is a privately-held junior exploration focused on developing its Lac à l'Orignal phosphate project in the Province of
The post…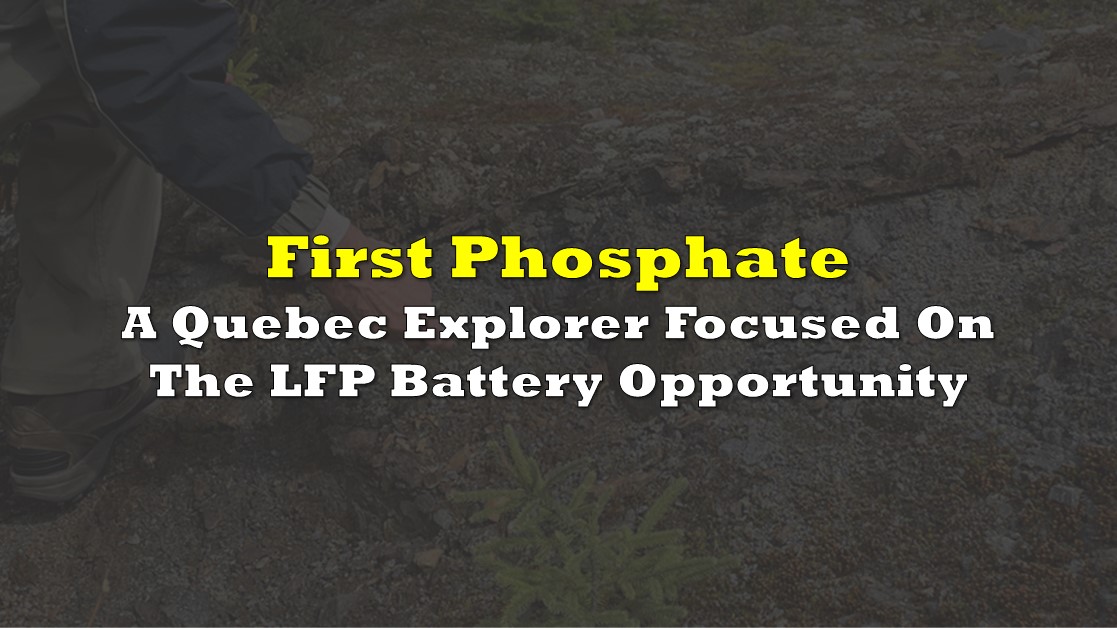 First Phosphate Corp. Is a privately-held junior exploration focused on developing its Lac à l'Orignal phosphate project in the Province of Quebec. The company holds a massive 1,500 square kilometre land position located 145 kilometres north of Saguenay, Quebec. The area boasts a deep sea port, the Saguenay-Bagotville Airport, power infrastructure, and an excellent road network that provides easy access to the Lac à l'Orignal property. 
What makes First Phosphate compelling is that it is ESG (Environmental, Social and Governance)-driven and is focused on delivering a critical supply of clean, high-purity, low-carbon-footprint phosphate battery material for the lithium iron phosphate, or LFP, battery industry. 
First Phosphate has assembled a team with extensive mineral exploration and capital markets experience, and is currently preparing for an expected debut as a publicly-traded company on the Canadian Stock Exchange (CSE) in the fourth quarter of 2022.
The Phosphate Basics
Phosphate is found in both sedimentary and igneous rocks. 95% of sedimentary soft rock deposits are found in Africa and the Middle East and they can also contain heavy metals such as cadmium and uranium. Igneous hard rock phosphate ores, on the other hand, tend to have higher purity, but make up only 5% of the world's phosphate supply. 
Phosphate has primarily been used to produce mineral fertilizers, animal feed, food preservatives, cosmetics and other industrial and consumer products. 
Why Lithium Iron Phosphate (LFP) Batteries? 
There is an ongoing global push to fight climate change, by reducing carbon emissions to meet the targets established by the Paris Climate Agreement. Many jurisdictions have mandated a transition from fossil fuel energy to green, environmentally friendly energy sources and the phasing-out of gasoline-fueled vehicles in favour of electric vehicles. This has resulted in the accelerated demand for "battery metals" such as lithium, copper, cobalt, and nickel for use in the manufacturing of EVs and the batteries that are necessary to power them. 
EV manufacturers have recently been shifting towards using Lithium Iron Phosphate (LFP) batteries due to the environmental friendliness and superior performance characteristics that igneous rock phosphates provide. LFP batteries are non-toxic, recyclable, and generate much less heat. Therefore they provide improved fire safety and enhanced performance stability. 
LFP batteries have a higher charge/discharge efficiency with consistent discharge voltage, resulting in less power loss when the battery is low. This results in a longer shelf life and less degradation of the battery. LFPs can withstand cold temperatures with no internal damage – and their lighter weight and smaller size enables it for larger vehicles, as well as versatility for small and large scale storage applications. 
LFPs have become the lowest-priced EV battery on the market due to the simplicity of manufacturing. And importantly, they tick all the ESG boxes consumers are concerned about.
The Demand for Phosphate
The shift to LFPs will drive phosphate demand much higher, at a time when there are already limitations to the global phosphate supply. According to Fortune Business Insights, the global LFP battery market is expected to grow at a compounded annual growth rate of 25.6% from US$10.12 billion in 2021 to US$49.96 billion by 2028.
.
The Covid-19 pandemic ravaged the global economy, and along with a number of geopolitical conflicts, exposed many flaws in the global supply chain. The disruptions in the supply of computer chips, auto parts, medical equipment, PPE, and many other products, exposed a host of vulnerabilities. This has caused many governments to re-evaluate their dependence on the supply of strategically necessary products and commodities from China, Russia and other politically sensitive countries. As such they began to provide incentives for accelerating domestic supply sources and manufacturing. 
Due to its critical role in the industrial supply chain, phosphate rock is on the Critical Materials list in the European Union, the Province of Ontario, and is currently under review in Canada, the Province of Quebec, the United States, and around the world.  
Separately, the US government is proposing EV credits to manufacturers under recent and oncoming legislative changes. It would require 40% of EV battery materials be sourced in the US or in aligned free trade countries, and by 2027, that figure will rise to 80%. 
First Phosphate's Recent Partnership
First Phosphate very recently entered into a research and development partnership with the prestigious Pufahl Research Group at Queen's University. The idea is to develop proprietary and advanced methods of phosphate production for the LFP battery industry. 
The goals of this partnership is to: 
Determine the detailed mineralogy and geochemistry of phosphatic ore and waste minerals. 
Evaluate the site feasibility of the Lac à l'Orignal property.
Work out how to cost-effectively extract clean phosphate under strict ESG guidelines, with the lowest possible carbon footprint.
Quebec Makes Sense
Quebec has indicated that it wants to become a leading North American jurisdiction in the development of a vertically integrated EV industry hub, and offers multiple government incentives to attract investment into this sector.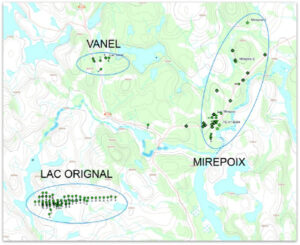 As stated, only 5% of the world's phosphate deposits are from high purity igneous rock. With 50% of that being located in Russia, the invasion of Ukraine makes a lot of it largely unavailable for the foreseeable future. First Phosphate's Lac à l'Orignal phosphate project is strategically located in Quebec. It therefore makes geographic sense to develop it into a reliable supply of high purity phosphate extracted from igneous rock for North America's EV battery makers.
READ: First Phosphate Appoints Former Environment Minister Peter Kent As President
The Lac à l'Orignal Project currently has 3 identified mineralized zones on the property; 
Lac à l'Orignal – Focus of the NI-43-101 report
Mirepoix – an advanced drill target 
Lac Vanel – potential further target 
The primary focus is on the Lac à l'Orignal zone, on which to date 89 holes have been drilled for a total of 8,776 meters, returning an average grade of 5.3% P2O5. The size of the main deposit, which starts at the surface, is estimated at 1,500 meters long by 250 meters wide, and is up to 100 meters thick. The property could likely become an open-pit operation.
In Conclusion
First Phosphate Corp's mission is to leverage its high-purity phosphate resource to help Quebec and Canada become a leader in the electric vehicle industry, and to advance national climate change goals. The Lac à l'Orignal project would likely develop into a low-cost capex open-pit operation. It is also strategically located near Saguenay and its deep water port, which easily facilitates the delivery of phosphates to North American LFP battery plants.
---
FULL DISCLOSURE: First Phosphate is a long investment of Canacom Group, the parent company of The Deep Dive. Not a recommendation to buy or sell. We may buy or sell securities in the company at any time. Always do additional research and consult a professional before purchasing a security.
The post First Phosphate: A Quebec Explorer Focused On The LFP Battery Opportunity appeared first on the deep dive.
All eyes on "huge" lithium prize for QX Resources as drilling starts up at Liberty Lithium
Drilling is under way at QX Resources' 102km2 Liberty Lithium project in California, targeting a high-value, extensive surface brine anomaly … Read…
Gold's stage is set: Will ASX juniors eat the TSXv's lunch in gold too?
When gold is worth around A$97 per gram, there is a lot of money to be made finding and producing … Read More
The post PETER STRACHAN: Gold's stage…
Barrick Gold Buys 12.3% Stake in Hercules Silver for $23.4 million
Hercules Silver (TSXV: BIG) has done what many junior mining names only dream of. The company has secured a major
The post Hercules Silver Sees Barrick…