3 Micro-Cap Stocks Set to Explode Higher
Underlying prices exhibited a notable cooling trend, providing the Federal Reserve shows evidence of softer inflation. While Americans did indeed spend…
Underlying prices exhibited a notable cooling trend, providing the Federal Reserve shows evidence of softer inflation. While Americans did indeed spend more on costly gasoline and services during the month, this moderation in other price components underscores the nature of inflationary pressures. Such developments are generally seen as positive for the economy and the broader stock market, especially toward micro-cap stocks. As inflationary pressures ease, concerns about rising costs hurting corporate profit margins will ultimately be alleviated. This, in turn, would serve to boost investor confidence in these three specific micro-cap stocks to buy, which often have a greater ability to adapt and thrive in dynamic economic environments.
Femasys (FEMY)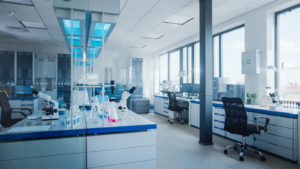 Source: Gorodenkoff / Shutterstock.com
Femasys (NASDAQ:FEMY) is a biomedical company developing two lead revolutionary product candidates in late-stage clinical development for reproductive health and innovative diagnostic products.
FEMY is up by 231% YTD, currently sitting at $2.98. The U.S. market for fertility clinic services was estimated at $7.9 billion in 2022 and is forecasted to grow at a CAGR of 13.6% to reach $16.8 billion by the end of 2028. Financials fared well, with total revenues increasing 5.74% year-over-year (YoY).
Femasys' FemaSeed aims to combat the increasing effects of widespread infertility–estimated at 10 million in the United States, according to the Centers for Disease Control and Prevention. FemaSeed Intratubal Insemination is a type of intrauterine insemination procedure that is less invasive than in vitro fertilization or intracytoplasmic sperm injection, which the company expects would reduce the chances of procedural complications. "We are thrilled to receive 510(k) Clearance from [the] FDA for FemaSeed®, an innovative infertility treatment designed to deliver sperm directly to where conception occurs," said Kathy Lee-Sepsick, founder, president and chief executive officer of Femasys.
This revolutionary clearance has primed FEMY for an explosion. Accordingly, all four analysts labeled it as a Buy. Moreover, the average 12-month price target average is $9.25, signaling an undervalued consensus.
The infertility sector shows no signs of slowing down, and FEMY is already ahead of the competition through its innovative products and robust financials.
SeaStar Medical (ICU)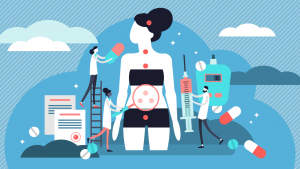 Source: VectorMine/Shutterstock
SeaStar Medical (NASDAQ:ICU) is a leading medical device company developing proprietary solutions to reduce the consequences of hyperinflammation on vital organs.
ICU stock at $0.26 gained 5.6% in the past month. The global medical devices market size was valued at $512.29 billion in 2022 and is projected to grow to $799.67 billion by 2030 at a 5.9% CAGR.
Financials are faring well, with total assets increasing 63.7% YoY. Cash from financing is up by 4.29% YoY, and free cash flow reduced by 8.23%.
On September 29th, SeaStar announced the receipt of the U.S. Food and Drug Administration (FDA) Breakthrough Device Designation for its patented, first-in-class cell-directed Selective Cytopheretic Device (SCD). The device is for patients in the intensive care unit with acute or chronic systolic heart failure and worsening kidney function because of cardiorenal syndrome or right ventricular dysfunction awaiting implantation of a left ventricular assist device. The Breakthrough Device Designation should speed up the clinical development and regulatory review of the SCD for patient use.
This revolutionary clearance has primed ICU for an explosion, and accordingly, analysts label the stock as a Buy with an average target price of $1.00. That represents a 278.7% potential upside.
The biomedical sector shows no signs of slowing down, and SeaStar Medical is already ahead of the competition through its innovative products and robust financials.
Ibex (IBEX)
Source: My Life Graphic/Shutterstock.com
Ibex (NASDAQ:IBEX) is a digital marketing company that specializes in customer experience solutions. Five analysts predict a 1-year price range on IBEX to be between $17.00 and $25.00, with an average of $20.00.
The global digital marketing industry is expected to reach a valuation of $671.8 billion by 2028 from a 13.1% CAGR. As more investment goes into digital platforms, entertainment and telecommunications in Asian markets, it allows for a global expansion of opportunities for the digital marketing industry.
Ibex boasts strong financials, reporting $523.1 million in revenue for fiscal 2023, growing 6.1% YoY. The company's adjusted net income increased to $36.9 million from $26 million in 2022 — a 42% bump YoY. Management demonstrated its ability to handle internal fundraising and investments through $56.4 million in cash at the end of June due to strong free cash flow.
Ibex has both long and short-term prospects through a partnership and a share buyback. Ibex has partnered with Genesys, a global cloud customer experience leader, to integrate its Wave X CX platform into Genesys Cloud CX. This strategic partnership aims to improve both companies' CX platforms, granting Ibex access to Genesys Cloud CX's adaptable contact center capabilities and expanding its own CX platform's service offerings. Ibex has also announced a $30 million share buyback program as of September 18th, driving share value when executed for income-seeking investors.
With a rapidly growing industry, strong financials, beneficial partnerships and an upcoming share buyback program, Ibex is a micro-cap stock that prospective investors don't want to miss.
On the date of publication, Michael Que did not hold (either directly or indirectly) any positions in the securities mentioned in this article. The opinions expressed in this article are those of the writer, subject to the InvestorPlace.com Publishing Guidelines.
The researchers contributing to this article did not hold (either directly or indirectly) any positions in the securities mentioned in this article.
More From InvestorPlace
The post 3 Micro-Cap Stocks Set to Explode Higher appeared first on InvestorPlace.
PBoC In A Hurry To Buy Gold: Covertly Bought 593 Tonnes Of Gold YTD
PBoC In A Hurry To Buy Gold: Covertly Bought 593 Tonnes Of Gold YTD
By Jan Nieuwenhuijs of Gainesville Coins
The PBoC is in a hurry to buy…
The Interest Rate Shock Will Blow Up The Government's Ponzi Game
The Interest Rate Shock Will Blow Up The Government's Ponzi Game
Authored by Thorstein Polleit via The Mises Institute,
In the international…
Central Bank Gold Buying Continued Unabated In September
Central Bank Gold Buying Continued Unabated In September
Via SchiffGold.com,
Central banks continued to gobble up gold…
Reported central…